About the Ndola Chamber
"We believe that together 'we' can make a difference for better business!"
The Chamber is itself a self-funded, non-profit, apolitical Business Membership Organisation which is highly regarded by both business and government leaders. It is one of Zambia's most visible, credible, and perceptive private sector advocate.
Remarkably, the Ndola & District Chamber Of Commerce & Industry (NDCCI) is the "first born" of the Chamber family in Zambia and was founded in 1930, a good 34 years before Zambia's independence from Britain.
The joke in Zambian business circles that "money is made on the Copperbelt and spent in Lusaka" might hold true for Ndola and the surrounding areas on the Copper laden Province where some of Zambia's largest mines are located. Historically, this has always put Ndola at the heart of commerce, trade and industry, because apart from being Zambia's third largest city, Ndola is uniquely placed as the Provincial and Administrative Capital of the Copperbelt Province. It was for many years regarded as the industrial, commercial, and distribution hub of Zambia and sits proudly as the cynosure of transport and logistics in Zambia.
Ndola has a penchant for producing prominent captains of industry who have gone on to make their mark in Zambia and abroad. Ndola favourably competes with its peers in attracting world renowned names and brands like Dangote and First Quantum Mining Operations Limited (FQML) which etched its initial African mining signature in Ndola and still maintains a presence, but that's not all, over the ages Ndola's investment destination prowess has been endorsed by world famous international companies and brands like Dunlop, Colgate, Lyons, Reckitt & Colman (now Reckitt Benckiser), and many others. Building on this reputation, the membership complexion of the NDCCI is richly diverse with a combination of Micro, Small, Medium, and Large enterprises drawn from sectors and industries such as Mining & Exploration, Agriculture & Forestry, Manufacturing & Processing, Energy & Gas, Tourism & Hospitality, Transport & Logistics, Textiles & Garments, Construction & Engineering, Insurance & Finance, Investments, ICT, Technical & Scientific Services, Pharmaceuticals, Chemicals, Wholesale & Trade, including other subsectors and emerging industries.
"The NDCCI is honored to be associated with FINNCHAM and looks forward to developing an enduring relationship with Finnish counterparts."
Networking has been one of the NDCCI's strong points since inception. Apart from cultivating relations with decision makers in government, the Chamber also invests in close partnerships with other Chambers of Commerce, professional and business associations, and not least of all, the wider development and diplomatic community.
Naturally, the Chamber lends support to the public good by fulfilling its social and environmental responsibility in dedicated areas such as Women Empowerment, Streetism, Covid-19, infectious diseases, as well as other interventions carried out through the collective and individual empathy of NDCCI members.
The NDCCI significantly and consistently contributes valuable input into policy, regulatory, legislative, and institutional frameworks affecting the private sector, and is by default a key stakeholder in public discourse.
Over the years some of our successful advocacy has led to tax amnesties and the revocation or review of various laws and regulations that were detrimental to private sector development.
CONTACT
21 Broadwalk Complex
Corner Broadway Ave. & Vitanda St.
Town Center, Ndola
Copperbelt Province
Zambia
info ( a ) ndolachamber.com
www.ndolachamber.com
+260 955 928 311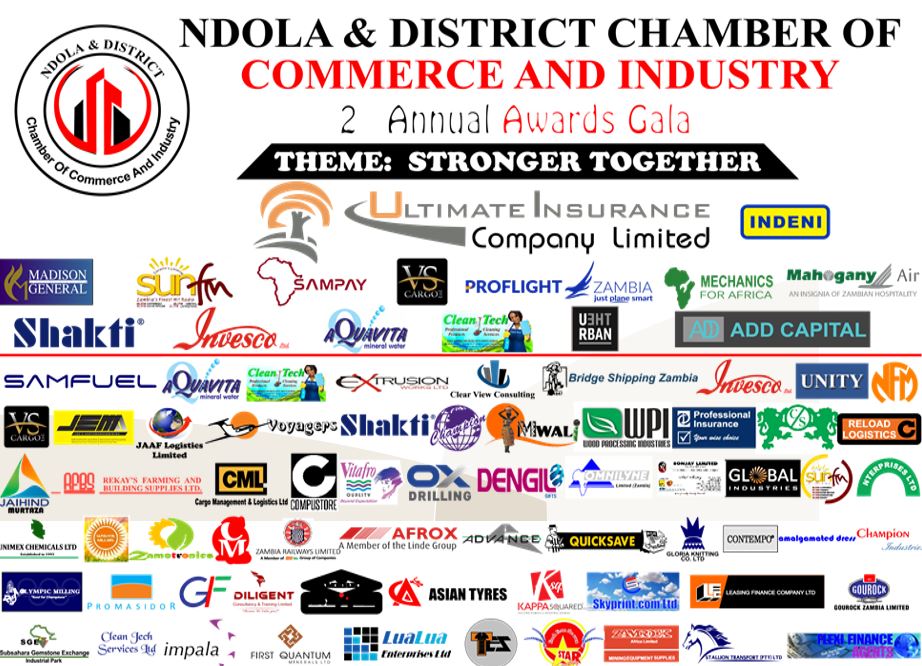 Takaisin uutiset-sivulle