AFRICA DIRECTORS SUMMIT 2023 - SOUTH AFRICA
When? 18-21 April 2023
Where? Lagoon Beach Hotel Cape Town, RSA
Seating is limited and is by invitation only.
Background

The world has changed in unprecedented ways. Rising inflation, supply chain slowdowns, geopolitical tensions, the effects of climate change, talent uprising, ESG activism, amongst many others – have triggered disruptions that are causing ripple effects on the world economy. With so much turbulence and uncertainty, the speed and agility with which our business leaders, including boards, anticipate and respond to such unprecedented challenges will determine the success or otherwise of the companies they steer. We believe these calls for a proactive sustainability driven governance model which rests on the presence of a multi-dimensional approach to risks, digital maturity, stakeholder-centricity, purposeful innovation, and self-regulation. Boards will need the B Factor – be bold and brave – to steer their organisations through these turbulent times and towards greater heights.

This conference will broaden the awareness of members and advisors to Boards of Directors in both developing and emerging markets of methods for improving the effectiveness of their board. This summit will provide an opportunity for participants to upgrade their knowledge needed in successfully fulfilling their roles.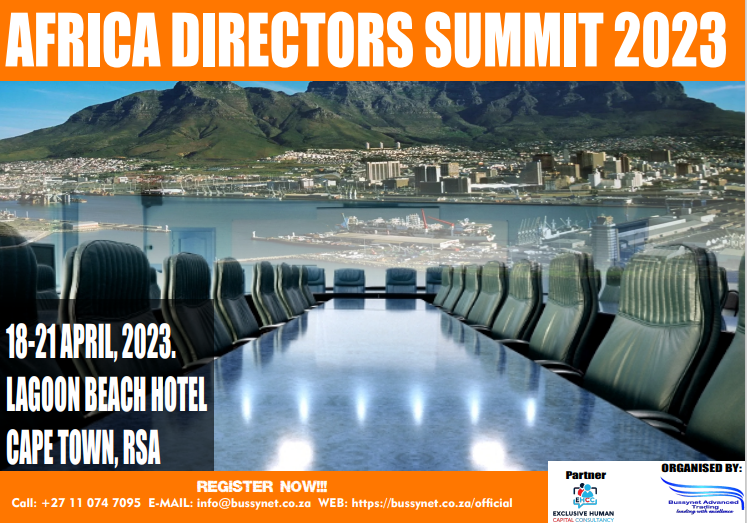 Objectives
• Network with governance peers from across the continent
• Learn key risk management strategies to serve your board and organisation
• Gain new skills and practical solutions for boards and organisations
• Understand new developments in executive compensation
• Regaining trust: Anti-Fraud and compliance in governance

Areas of discussion
• Effective Induction and on boarding of directors in the new paradigm
• Financial Stewardship and Governance Oversight Issues/ IFRS
• Using Blockchain Technology to improve Governance and develop Modern Organisations
• Director misconduct and disciplinary action
• Elevating Corporate Performance through ESG: Redefining the Role of the Board
• Understanding business risks and mitigating from cyber threats and privacy breaches
• Board Evaluation and Assessment
• Lessons learnt from governance failures
• Strategic Leadership and the Board
• Shareholders, Stakeholders, and the Board
• Improving Board Effectiveness (Workshop)
You can find the program and more information about the event here.
You can register for the event by filling in this form and by emailing it to info(a)bussynet.co.za.
Takaisin tapahtumat-sivulle