Join Life Sciences Baltics 2021 Digital which will be held online on September 20-24.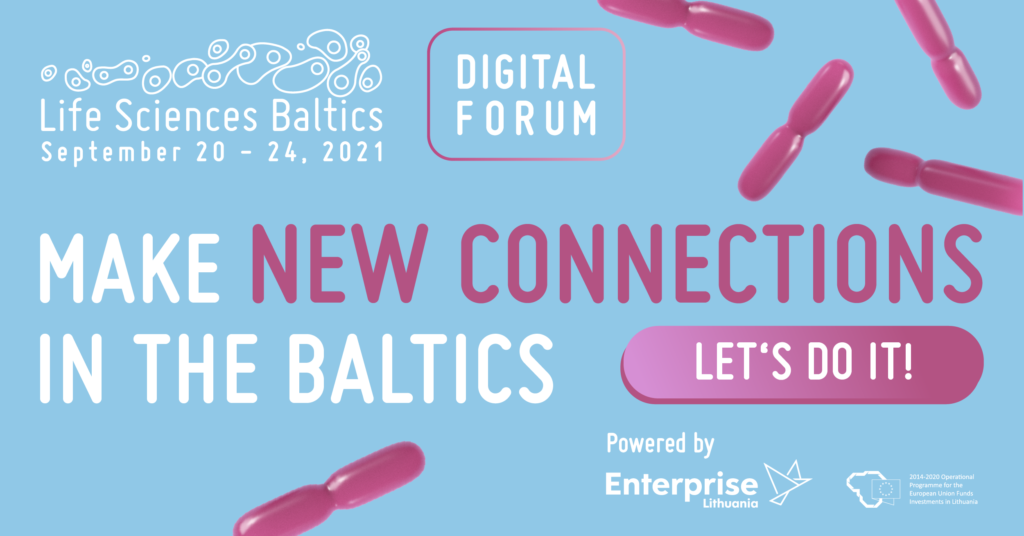 The event provides a unique opportunity to explore the potential of the Baltics countries and meet companies, research teams, startups from the Baltics and beyond. The digital format will encourage life sciences professionals to participate throughout the week without any limits. Book tickets now!
Life Sciences Baltics is the only international forum in the Baltics and one of the largest in Northern and Eastern Europe for world-class biotechnology, pharmaceutical and medical devices experts from all around the world.
The bi-annual event will be held for the 5th time this year. In 2018, around 1,900 participants and 68 exhibitors from 43 countries gathered in Vilnius and more than 1,300 B2B meetings took place.
Life Sciences Baltics Digital Forum 2021 will combine different experiences:
International Conference – empower yourself with knowledge from key life sciences trend-setters who will talk and discuss the latest industry trends including a special COVID-19 session coming ahead. The program is available here.
B2B Meetings – turn your new connections into projects or contracts and accelerate your ideas while meeting potential partners the whole week. B2B meetings start from 6th of September so hurry up to network and find new partners!
Exhibition – present your business solutions or projects in a virtual exhibition. Meet the winning mix of industry players, including associated manufacturers and service providers operating worldwide, at a one-stop-shop. Learn more about the exhibition and book your booth here.
Startup Masterclasses & Pitch Battle – gathering startups from Europe and beyond to learn how to pitch your big idea and learn valuable information about go-to market strategies. Best 10 startups will pitch their ideas at Startup Pitch Battle in front of VCs, business angels, investors and industry leaders. Do not miss out the possibility to pitch in front of investors from 15+ countries! More information and registration to Masterclasses here.
Poster Session – academics, students and researchers are welcome to present scientific projects on human health to the target audiences interested in your findings: academia, startups, and decision makers from the business world. Submit your abstract here.
More information about the forum: https://lifesciencesbaltics.com/
If there are any questions regarding the forum, the organizers can be reached out via the following email – info@lifesciencesbaltics.com
Looking forward to seeing you in the digital Life Sciences Baltics 2021 forum soon!
Text: Enterprise Lithuania