The STEP initiative as a gateway to student entrepreneurship in Africa

Article 1: Eco-System partners embrace STEP to develop UWC student ideas into commercially viable businesses
Author: Abraham Oliver, the Director of the Centre for Entrepreneurship and Innovation at the University of the Western Cape

Alone my dream is just a dream. Another false illusion, a shadow in the night. All I want is for our hearts to be beating just as one. To silence the confusion – the voices of the University of the Western Cape (UWC) choir reverberated off the walls of the Jakes Gerwel Hall. If we, as the proverbial village, stand together, we are an undeniable force that will help every child to reach their potential. We believe that everyone can start a business and that universities have a critical transformational role to play in supporting start-ups along the right pathway.

Last month the Minister of Small Business Development, Stella Ndabeni-Abrahams, encouraged small businesses in townships and rural areas to apply to the Township and Rural Entrepreneurship Programme (TREP) for support, including funding. The failure rate of start-ups in South Africa is higher than in many other places in the world, with access to finance being a major stumbling block. South Africa ranked 45th out of 50 countries in the GEM National Entrepreneurial Context Index, a measure of the favourability of the environment for entrepreneurship and new business creation (GEM 2022).

Therefore, the support from government is commendable, but there is more to starting a business, and South Africans are not familiar with all the necessary skills such as marketing or governance.

Unfortunately, these skills are not necessarily part of the academic programme at universities either, and graduates are often unable to start their businesses.

In the higher education space, it is paramount to take students' ideas beyond the geographical boundaries of the institution, to where they can impact their respective communities. A key priority should therefore be to strengthen a university's "entrepreneurial ecosystem", which will enable students' businesses to transition from the idea stage to the start-up stage. Start-ups will have a higher success rate when they have access to quality business development support, linkages to finances, market access and mentoring support.

Youth in South Africa continue to be disadvantaged in the labour market, with an unemployment rate higher than the national average. According to the Quarterly Labour Force Survey (QLFS) for the first quarter of 2022, the unemployment rate was 63,9% for those aged 15-24 and 42,1% for those aged 25-34 years, while the current official national rate stands at 34,5%.

Recently, UWC launched the Student Training for Entrepreneurial Promotion (STEP), an action-oriented entrepreneurship training programme. Over a period of 12 weeks, students will conceptualise a real problem, transform a problem into a marketable solution, and form a team to deliver the solution to the market with impact whilst generating revenue. STEP is more than just making money – it is about creating social impact and developing an entrepreneurial mindset.

STEP was launched by the Centre for Entrepreneurship and Innovation (CEI) at UWC in collaboration with the German Commission of UNESCO, Leuphana University of Lüneburg, BASF and the South African National Commission for the United Nations Educational and Scientific and Cultural Organization (UNESCO).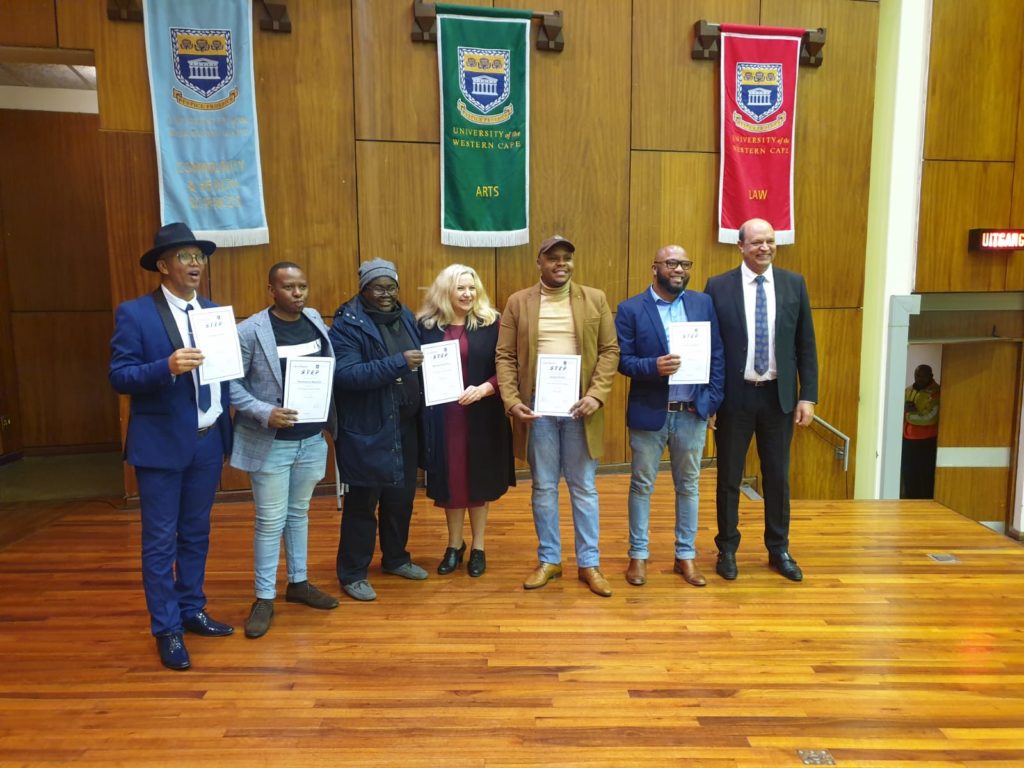 The CEI leveraged its eco-system partners to assist the STEP teams in reaching their goals and overcoming key challenges around resources. STEP is not a simulation but provides real entrepreneurial experience resulting in learning experiences that can be transferred to settings outside the training context. UWC Step Teams received capital to the value of 100 Euros which they will have to repay, but the profit is theirs to keep.

At the programme launch, Mr Pfarelo Mutwanamba from BASF South Africa explained that STEP has yielded promising results in developing entrepreneurial mindsets and business creation among university students, including the University of Limpopo and the University of Venda. The National Youth Development Agency (NYDA), Business Partners and Zhauns have also committed their support to the programme.

Micarlo Malan, the Regional Manager of NYDA, said they are open to considering the STEP Teams for a potential grant of R10 000 and R50 000 to the most viable businesses. An NYDA business development officer will evaluate these STEP teams to ensure demand for the product and service. Students will experience learning by acting, constant feedback and reflection, and matching their solutions to a real-world problem.

Farryn Vollenhoven, the Marketing Manager from Business Partners, encouraged STEP participants to believe in themselves and said that they have all the expertise plus talents to make it happen. She pledged a R10 000 donation to the winning three business teams.

Riad Ahmed, Marketing Executive at Zhauns, highlighted that the STEP participants are surrounded by all the key players in the eco-system who can assist them in starting, launching and scaling up their businesses. Ahmed committed a key resource to the value of R35 000 to the most deserving STEP Team to scale the operations of their business.

Despite the dwindling rate of employment and the dire economic circumstances in South Africa, it is encouraging to see leaders of our village prioritising youth entrepreneurship and youth leadership at UWC. That is undoubtedly our African Dream – to see graduates' unemployment figures reduced, watch them attain employment and forge self-employment opportunities.

As a UWC village we are on the right path to illuminate the steps students must take to move from a start-up to a scale up. However, more should be done to strengthen the enabling environment and ease of doing business to unlock the full entrepreneurial potential of our students to contribute to economic development and job creation.

Article 2: UWC's Brand New STEP Programme Kicks Off With A Rousing Opening Ceremony
Author: Jeremy Daniel

The atmosphere was electric in the Jakes Gerwel Hall at the University of the Western Cape (UWC) on 11 August at the launch of the much-anticipated STEP program, which aims to strengthen entrepreneurship at universities – especially in countries of the Global South.

"Today, we are standing up for new ideas! For a better tomorrow!" said Abraham Olivier, Director of the Centre for Entrepreneurship and Innovation. "For ways to reduce graduate unemployment and for silos to be broken down."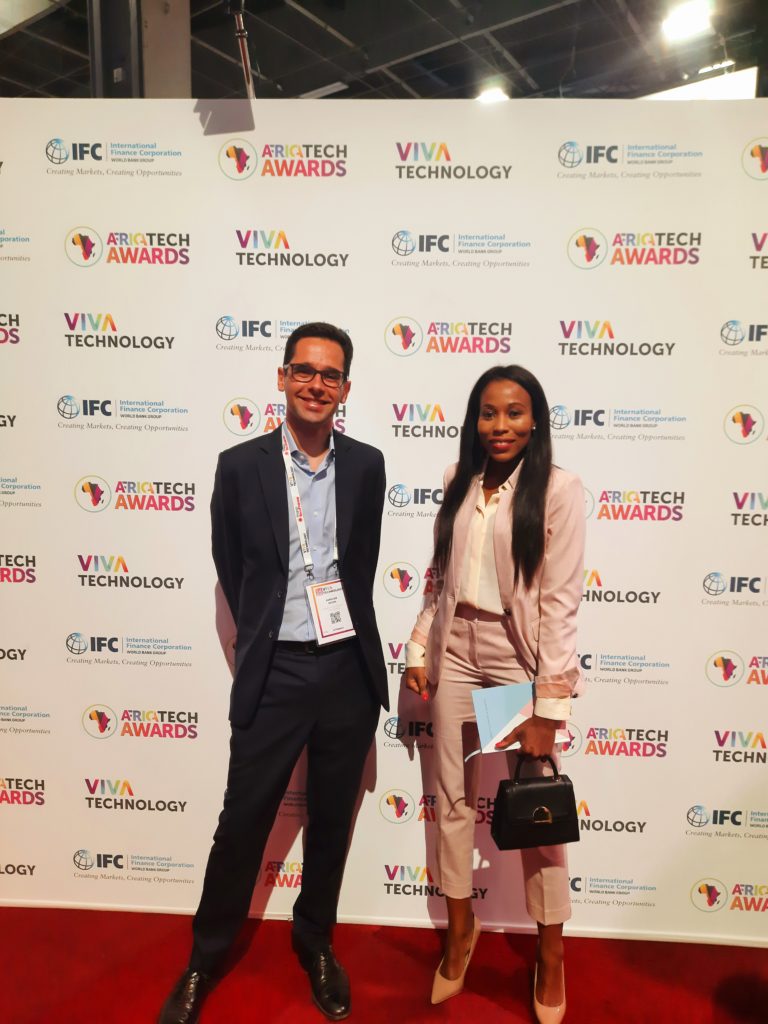 He was speaking to a host of dignitaries from the business and education sectors as well as the South African and German Commissions for UNESCO, not to mention the excited group of students. The esteemed guests were there to express gratitude for the creation of this programme and to encourage the eager students to take full advantage of the many benefits that STEP will offer them.

The launch event was the culmination of five days of intense training in the STEP method for 10 UWC staff members who will be guiding the students on their entrepreneurial journeys. STEP, originally developed by Leuphana University and Makerere University in Uganda, has been proven to create a positive mindset toward self-employment and will create opportunities to develop the knowledge, skills, and values to overcome the challenge of youth unemployment.

Thursday's event was opened by UWC Executive Director for Finance and Services, Mr Manie Regal, who spoke passionately to the young entrepreneurs, imploring them to "not break your promises. Be honest and fair. Act with integrity and don't give up. Discern between being firm and being rude. Free yourself of the victimhood of the past."

His opening address was followed by an impressive roster of people from academia, UNESCO, and local businesses who each came up to explain their involvement with the programme and offer the students some words of advice and encouragement.

Professor José Frantz spoke of building "an engaged university and using our intellectual work to make sense of a complex world, hoping to cultivate a socially responsible people-centred approach," while Dr Norah Clarke of EDHE explained how "We are seeing this program slotting into a growing web of activities and initiatives across higher education that support the development of entrepreneurs as students and graduates."

UWC is the third university in South Africa to be part of the STEP program. It was implemented first at the University of Limpopo in 2017, then at the University of Venda in 2018, before COVID-19 disrupted the next phase. Nevertheless, the program is back on track with five years of South African experience, "and we have seen great results coming out of this initiative," according to UNESCO Southern Africa Cultural Coordinator Mr Motopi Rampedi.

He thanked the German commission profusely for their support, saying: "Will go a long way to reducing poverty. On behalf of UNESCO. Declare our unwavering steadfast support for the German commission for UNESCO. We believe and hope the students will embrace the project and benefit immensely from what it can do towards creating entrepreneurs in our beloved country".

During the event, the speeches were interspersed with impressive singing performances by members of the choir, whose themes of lifting yourself up and trusting in God were very well received by the audience.

The business leaders and investors encouraged the students to run with what they learn, to not be afraid to make mistakes, and to reach out and ask for help – that's what STEP is all about and that's the only way to make progress as an entrepreneur.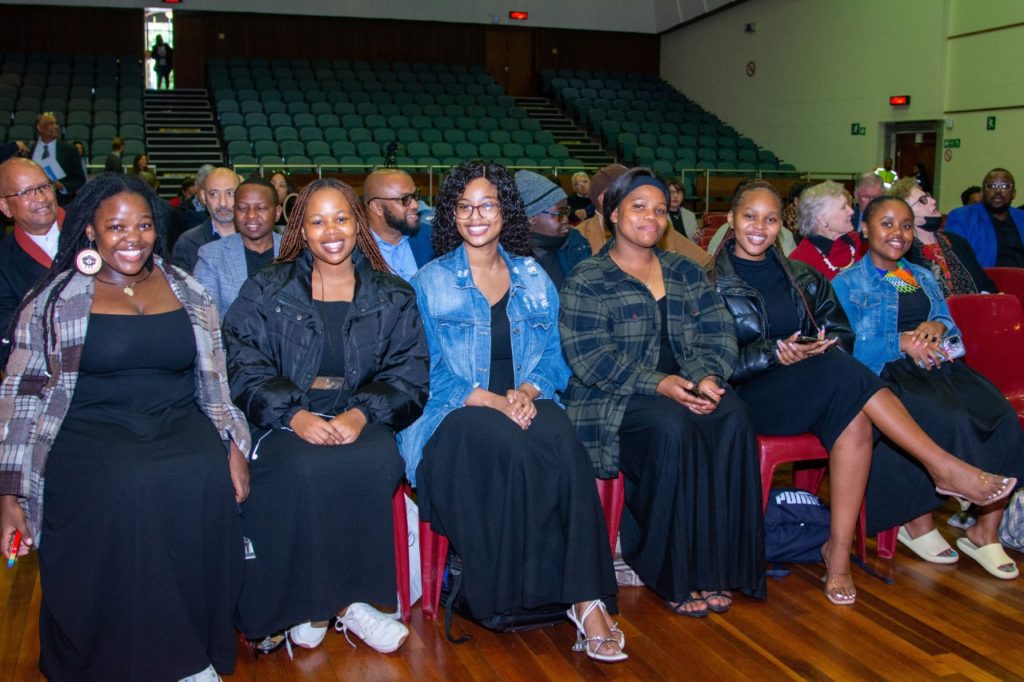 Takaisin uutiset-sivulle