Latinalainen Amerikka, Yleinen
October 24th and 25th, the IV European Investment Forum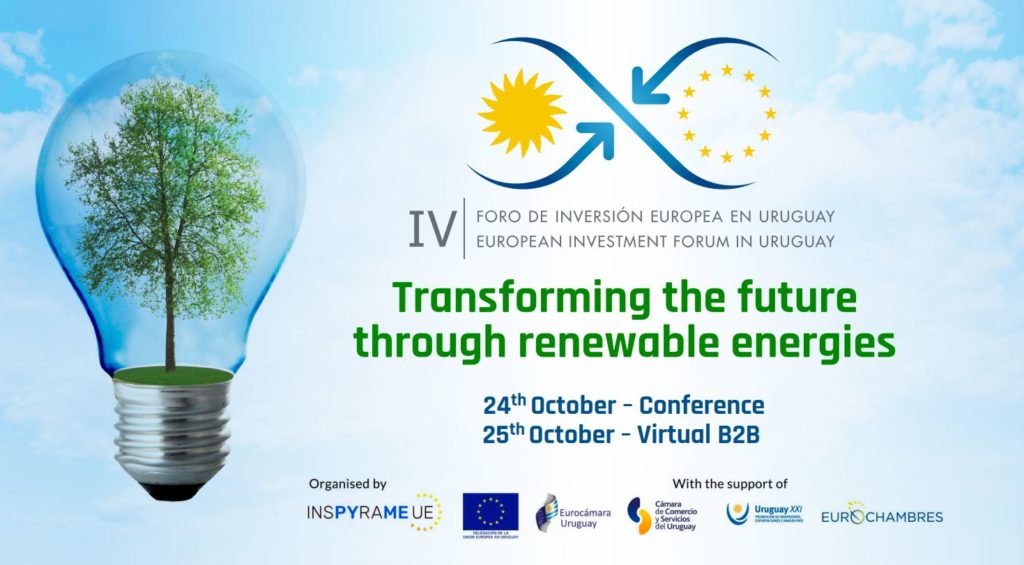 On October 24th and 25th, the IV European Investment Forum will take place in Uruguay on attendance- and and virtual-based formats. (Information here)
The Forum, which aims at promoting European investment is organized by the Delegation of the European Union in Uruguay, Uruguay XXI, the National Chamber of Commerce and Services of Uruguay, and the Eurochamber Uruguay.
This year's edition will be on "Transforming the future through renewable energies."
Attached hereto there is a brief brochure of the Forum in English language.
According to the organizers, a link to the YouTube channel that will broadcast the first day of the Forum will be posted on the event website, which will be available in two languages: Spanish and English (with simultaneous translation.)
The event foresees that on the second day, a Virtual Business Round will be held whose registration expires on October 7.
More information can be found at the following link: HERE
The main covered sectors are:
Batteries
Biomass
Energy efficiency
Green hydrogen
Photovoltaic energy
Wind power
New technologies applied to energy
WHAT – IV European Investment Forum
WHEN – 24-25 October 2022
WHERE – Montevideo, Uruguay and YouTube channel (Spanish and English, simultaneous translation)
CONTACT – Proyecto INSPYRAME UE, inspyrameue.uy@gmail.com
Further information – https://iv-foro-inversion-europea-uruguay.b2match.io

Takaisin tapahtumat-sivulle