Interview with Fondia, a new member of the Business Association
Which kind of commercial activity the company you represent has in Lithuania?
Fondia is a full-service business law firm and operate in four countries in the Baltic Sea area. Fondia is a forerunner in exploiting new service models and technologies in the legal field. Whereas the traditional legal firms often provide hourly-based case services, we offer productized service concepts that customers can purchase in accordance with their needs with a fixed price. Our main product is Legal Department as a Service, LDaaS and in addition to our continuous service, we do handle our client's legal needs on case basis and through different packetized services related for example to privacy law or compliance. We are continuously creating new ways of purchasing legal services and exploit digital operational environments when serving our clients. Fondia employs over 110 experienced business lawyers with different industry competences. We are truly proud of our experts' business savvy touch and most of our lawyers have a background both as inhouse counsels and working at law firms. This unique combination enables them to speak fluent business, in addition to their native legal!
Which kind of advice would you like to give for a Finnish company planning to enter the Lithuanian market?
First of all, to explore the situation from different angles and to evaluate not only customers or labour market potential and business environment but also cultural aspects. Nowadays there is plenty of information available online; nevertheless, from a lawyers' point of view, we always recommend getting advice from relevant professionals, especially from those who are business-minded and have cross border work experience. And take the opportunity to discuss with those who already have already been doing business in the country, for example, SULI or FLCC members.
Please, tell us your success story in Lithuania?
We at Fondia are acting as the outsourced legal department of the Japanese multinational manufacturer of power tools, Makita. We are serving them in five countries, one of them being Lithuania. The Makita Team has experienced the Fondia team's cross-border work flow as simple to manage and that the essential trust and high level of competence are always present regardless of which lawyer they have been working with and where they happen to be located. They have told that they have felt taken care of as the responsiveness and the Fondia lawyers' quick and positive way of staying in touch have enabled them to concentrate on their core business. Happy customer makes happy lawyers, we could not be happier to have the chance to serve them in Lithuania!
How do you see the position of Lithuania in your activities during the 5 coming years?
We are still quite fresh to the Lithuanian market and feel that we have a lot to give and a lot to gain; we have now established nice connections and found our share of likeminded customers who enjoy the SaaS model even in legal matters, but look eagerly forward to find new customer groups who are willing to challenge their impression of business legal services! In five years' time we wish to have established ourselves and our service model as an important player in the market and have grown even more in the size of our team.
Your motto to do business in in Lithuania?
Our slogan tells it all: "We law your business! We aim to be the smoothest solution for any company in their legal needs – we want to be on the smarter side of law and truly know our customers' business"
Your recommendations to join the Finnish-Lithuanian Association:
We see the business association as a great forum for meeting other service providers with same roots as ours and as a great network for sharing the best practices from different fields. We as lawyers do have a vast knowledge of how to enter the market in our countries, which legal aspects to consider in the Nordics and the Baltic countries and of course how to comply with the differencing regulations cross-boarders and are happy to share our competence!
Company in a nutshell
Name Fondia Plc
Products Business; Business Legal Services
Home place Headquarter in Helsinki, Finland
Personnel 150 in four countries
Turnover 20.2 Meur in 2020

Name Jurgita Vaičiulionienė
Title Managing Director, Fondi Lithuania
Something you would like to tell about yourself
I joined Fondia as it impressed me with its way of lawing customers' business and people oriented company culture. I have been here since the establishment of the subsidiary in Lithuania more than 2 years ago and enjoy using my long term legal and management experience in Lithuanian and multinational companies contributing to the benefit of our customers and Fondia.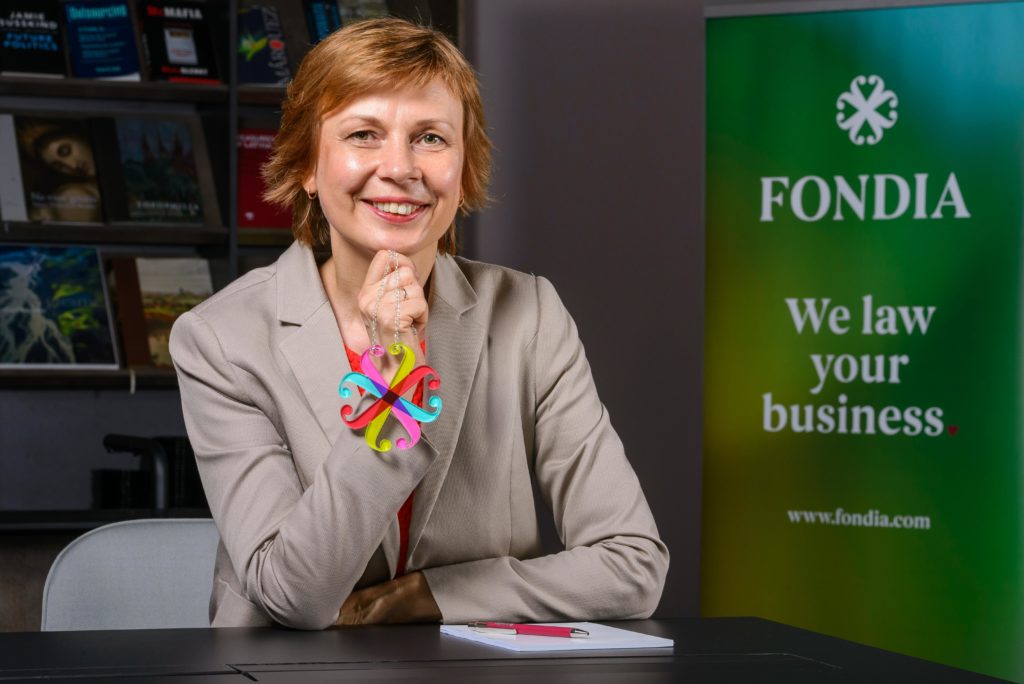 Takaisin uutiset-sivulle