Interview with a new member Lithoc
Finnish-Lithuanian Trade Association interviwed its new member LITHOC.
Which kind of commercial activity the cluster you represent has in Lithuania and in other countries?
Currently our cluster combines six subcontractors/suppliers for: concrete pouring works, interior/exterior finishing, furniture, lighting, stairs, and construction workers leasing. Also, we are looking for trusted supplier of construction steel structures to join our cluster.
I think I must clarify that we are not taking role as a contractor in any projects, but we have a strong expertise in serving contractors with our activities.
Please, tell us which kinds of partners you would like to have in Finland?
Knowing how well Finnish construction sector is developed we see that our members bring the most value to local construction companies, real estate developers and interior architects.
Please, tell us about your references in the business sector you represent?
Our members have strong experience in projects along Nordics, Central and Western Europe. When I say projects, I mean developments of offices, hotels (such as Courtyard Marriott, Zleep or Moxy), residential, public, and other commercial properties.
How do you see the position of Finland in your activities during the 5 coming years?
Well, I have a strong appreciation for the Finnish market, well-established local traditions as well as open-minded business mentality. Furthermore, I see that both of our countries have communalities starting from historical perspective, geographical location and even moving further to business mindset or processes in construction developments.
So, within 5 years while using our international expertise we expect to set mutually beneficial and long-lasting partnerships with local companies.
Your moto to do business with Finnish companies?
Let us only look for well-measured win-win partnership.
Company in a nutshell
LITHOC is Lithuanian-based cluster, which combines 6 trusted companies servicing construction projects. The cluster was established in result of strong demand for experienced and competitive Lithuanian subcontractors who can work in developments across Nordics.
Members of the cluster have a strong expertise in servicing developers, contractors, operators and architects in following range of services: subcontracting of concrete pouring works, interior and exterior works, manufacturing stairs, furniture and lighting, as well as providing construction workers.
Name: Lithoc
Products: Concrete pouring works, interior and exterior finishing, stairs, furniture and lighting, construction workers leasing
Home place: Vilnius, Lithuania
Personnel: ~450 (cluster members combined)
Turnover: ~18 million. EUR (cluster members combined)
Company presentation in English
Your name: Darius Mockevičius
Title: Head of the Cluster
Something you would like to tell about yourself: Co-founder of Foris Consulta UAB, Confido UAB and beautiful family with two adorable kids.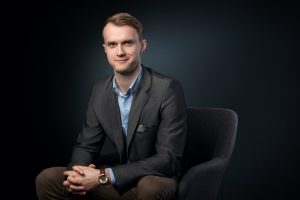 Takaisin uutiset-sivulle