Interview with H.E. Ms Arja Makkonen Ambassador of Finland to Lithuania
Searching for new markets? How about getting acquainted with Lithuania?
After starting as Ambassador of Finland to Lithuania at the beginning of September, the autumn was full of enthusiasm and positive buzz. However, towards the end of October we already saw the fast increasing numbers of Covid19 cases. Since mid-December, we have experienced a strict lockdown to get the numbers down, and we seem to be on a right track. Although the corona virus is continuing to affect our daily lives, it has not been able to stop us working – on the contrary! We have achieved a real digital leap with all the virtual ways of working.
After the November parliamentary elections, the new government started at full speed in December with the budget, new corona measures and reviewing the contents for the European Union Recovery and Resilience Facility. Ambassadors have already had many online-meetings with new ministers. In addition, many Finnish ministers have exchanged views with their new Lithuanian counterparts on current matters through virtual means.
The good news is that Lithuania has suffered less than predicted and less than many other countries from the pandemic. Last spring Lithuania and other Baltic countries managed the corona outbreak really well and could already in May create the so-called "Baltic Bubble". Perhaps this very solid management contributed to business confidence and gave optimism to consumers as well. The structure of the economy partly explains the resilience, but Lithuania also entered the pandemic from a strong economic position, with a fiscal surplus and low debt, strong private sector, and households in good shape. Lithuania is expected to be among the EU's earliest recoveries.
Last year the economy shrank 1.7 % and the recovery should be starting late summer – of course, a lot depends on the corona situation. The drop in exports of goods was 4.6 % and about 30% of foreign direct investments were postponed or canceled. However, the year 2020 was still a good year in investments – 42 projects and 4200 jobs created. Like elsewhere, there have been differences how various sectors have been affected during the past year. So far, the companies in trouble have been paid €439m. The second lockdown measures contain €150m for subsidies and €30m for direct loans. Another EUR180M is meant for compensations by Ministry of Social Security.
Business environment in Lithuania is good – I hear no complaints from the companies. Companies appreciate a safe and stable country near to essential big European markets. Lithuania is considered an interesting place to run a business because of skilled labour force with good language skills. The costs are still reasonable although last year the wages went up by 9.3 %. What I have already noticed even not having had the possibility of visiting companies in person, is that there is a good drive, flexibility and readiness to quick changes to respond the needs of private sector, if needed.
According to a recent report by Swedish Chamber of Commerce, Swedish direct investments last year were €3.3 bn making Sweden the biggest investor in Lithuania with 17.6% of total foreign direct investments. Sweden is followed by Estonia (14.7%) and Netherlands (13.5%). Finnish investments account for 3.3 %, Norwegian 3.2% and Danish 4.4%. Swedish companies employ already around 22000 employees in Lithuania. There are around 200 Finnish companies in Lithuania. The Nordic working culture is definitely an attraction, when competing the skilled Lithuanian work force.
Ministry of Economy aims at business-oriented regulation in order to diminish red tape and establish more flexible company registration policy. The government strives also for a fairer and growth friendly taxation that is predictable. Tax incentives will be revised, which streamlines the system. Ministry of Economy would also like to have 0- income tax for reinvested income. On the other hand, the tax base will probably be broadened by putting more emphasis on environmental taxation. There are already seven Free Economic Zones in Lithuania that offer significant incentives for foreign companies.
We could assume that also for Finland the neighboring countries or countries close by appear quite attractive as market area or as places to invest in the aftermath of the pandemic. We have seen how fragile the value chains are in a crisis. Now the EU member states are busy preparing their national recovery packages to get them ready before the final deadline in April. After the packages have been approved, there will be a huge number of projects with the purpose of making structural reforms. According to preliminary plans in Lithuania, this means about 42 % of the funds to be allocated to green transformation and climate-related projects, 20 % to digital transition and the rest to reforms in education, health sector and research and development, as well as improving the business environment.
What kind of opportunities will there be for Finnish companies? For Finnish cleantech sector there will be business opportunities, for example, in waste management or wastewater treatment. Lithuania is also going to put efforts into renovation of buildings and energy efficiency. Huge projects like Rail Baltica, Via Baltica and enlargement of the port of Klaipeda could also find solutions in Finnish high-value add products like smart logistics.
FinTech sector in Lithuania is well developed; in 2020 over 230 FinTech companies were present here. According to Global Fintech Index Lithuania is ranked No 4 worldwide and No 1 in the EU for Fintech friendly regulation. Further digitalization will take place with recovery package.
Life-sciences sector in Lithuania has grown fast. Over 90 % of healthcare and pharmaceuticals are exported. I recommend taking part in Life Sciences Baltics Fair 22-23.9.2021. In addition, Baltic MilTech presenting defence industry equipment will coming up later this year.
I encourage you to have a look at Lithuanian markets – Lithuania is not far from Finland and the business culture does not differ a lot from our way of doing business. If you need advice, let´s get together virtually – at least for the time being. There is also a very active Finnish Lithuanian Chamber of Commerce to support the Finnish businesses in Lithuania.
For next, I am sincerely looking forward to diving into the cultural scene of Lithuania, seeing the unique Unesco-listed places and a glimpse of the beautiful Lithuanian seashore.
H.E Ms Arja Makkonen
Ambassador of Finland to Lithuania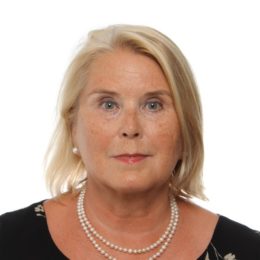 Takaisin uutiset-sivulle