Klaipėda Free Economic Zone (FEZ)
Klaipėda free economic zone (FEZ) is located next to northermost Baltic ice-free port in Lithuania. The zone specializes in plastics, metalworking, food processing, electric component manufacturing, logistics and other industries. At the same time, Klaipėda FEZ is increasing its footprint in R&D and innovation, both in terms of laboratories and excellence centers at industrial companies and with new, innovation-driven companies setting up at the zone. For instance, the major PET manufacturers operating out of Klaipėda FEZ carry our their research (including Horizon 2020 projects) in the areas of chemical recycling, new bottle and cap design and the circular economy, while Dancer, an award-winning 100% electric bus by the German-Lithuanian company Vėjo projektai, is both designed and manufactured at our zone.

On top of opportunities for greenfield investment, Klaipėda FEZ has assets for quick launch, including FlexStart advance buildings for manufacturing that were awarded by FT's FDI Intelligence magazine in 2017.
Klaipėda FEZ is a success story that keeps evolving. It started as a manufacturing destination and quickly attracted leading global industrial companies. Over the course of these years, its investors also discovered areas such as R&D and product design, while the FEZ management company crafted it's award-winning quick launch strategy and assets. This is further strengthened by a business-friendly mindset of the local
government, an ambitious academic community, unparalleled access to international and local markets, and a strong business ecosystem. Klaipėda region is also considered among the most livable ones in Lithuania paving ways to an ever-increasing talent pool, and so the future seems bright for Klaipėda FEZ businesses.
You can find more information about Klaipėda FEZ on their website and in this brochure.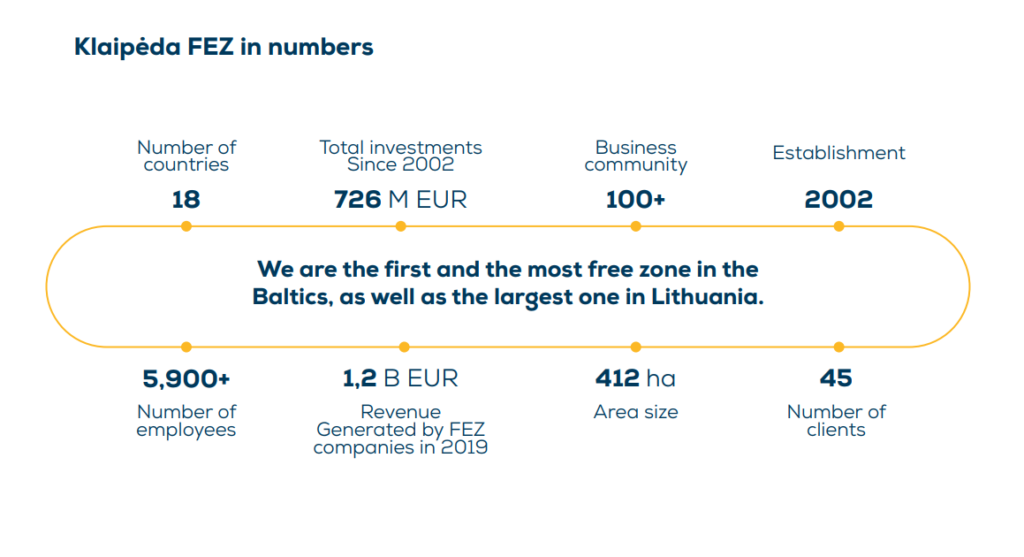 Takaisin uutiset-sivulle