Red Cross co-operation in the Baltic Region and Finland – Effective channel of support
EU-funded Evacuation Ready, EvRe project, will deepen the co-operation between Red Cross and civil protection authorities. Its focus is to enhance the capacities to setup and organize evacuation centers with various services. Project also focuses to host national support activities for example how to receive international assistance during a crisis.

Red Cross has an auxiliary role to public authorities in the humanitarian field. This auxiliary means that the Red Cross National Societies have a role in disaster risk management, emergency response, health promotion and social services. Strong National Societies create a solid foundation for effective disaster preparedness and response on a national level, but also enables cross-border and macro level co-operation in the case of an emergency. Networking, knowing each other and the trust between actors form a good basis for a long-term co-operation, which can be achieved only by sharing knowledge and doing things together.

Red Cross is a channel for support. New and old volunteers have supported Red Cross response in many ways. For example, In Finland volunteers have been welcoming refugees in harbors and supported establishing reception centers. Volunteers have supported refugees in basic needs by delivering food and water. Also psychological first aid has been provided. Volunteers have also given long-term support in social and integration services for example by helping children in homework and organizing language clubs.

Finnish Red Cross has sent support to Ukraine for example blankets, hygiene and kitchen kits and participated in the voucher program in co-operation with the International Red Cross. Finnish Red Cross has also sent a health clinic to the Western Ukraine. In addition, Finnish Red Cross international delegates have delivered material support for those in need. Health care delegates have worked in the health clinic and psychosocial support delegates have provided psychosocial support and trained volunteers.

Estonian Red Cross answered the growing needs of the population of Ukraine immediately by starting to collect money and material donations. By now 18 trucks of essentials and 3,8 million euros have been sent to Ukraine. Supporting refugees arriving to Estonia has been the center of the work for many months now. Starting from helping in registration centers or information points to organizing relaxation camps for Ukrainian children (altogether more than 200 children took part in the 5-day camps). Psychological support, including training of volunteers in this field, has been a strong focus.

In cooperation with the Estonian Association of Pharmacists, pharmacists assist Ukrainian refugees in refugee centers where they can get free counselling from a pharmacist on minor health concerns and, if necessary, free over-the-counter medicines. Additionally, the secondhand store of Estonian Red Cross – Punane Ristik – is providing refugees with clothing and footwear.

Lithuanian Red Cross swiftly responded to Ukraine crisis by collecting in-kind donations nationally (those included clothing items, mattresses, blankets, towels) and sent them to Ukraine. When the conflict continued, the Lithuanian Red Cross also sent medication of up to 800,000 euros value and food for those in need. Meanwhile, in Lithuania LRC led 6 out of 7 registration centers for refugees. Lithuanian Red Cross managed the center that hosted various services (registration with national migration services, employee services, temporary accommodation, and allocation to permanent, humanitarian aid, and other). To this day Lithuanian Red Cross supports Ukrainian population in Lithuania by providing individual assistance with integration processes, cash assistance, community activities, humanitarian aid items and management of the last remaining registration center.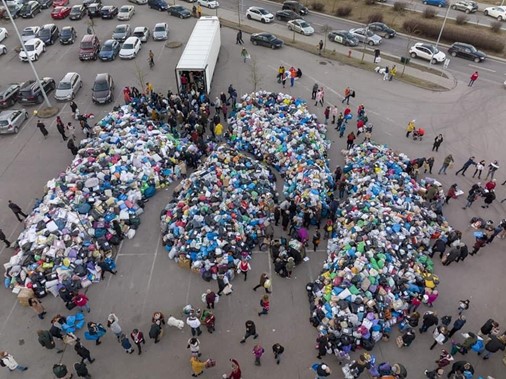 Tuula Luoma
Disaster Management Officer, EvRe
Suomen Punainen Risti/Finnish Red Cross
Takaisin uutiset-sivulle