Conference: Life Sciences Baltics
When? September 20-21, 2023
Where? Vilnius, Lithuania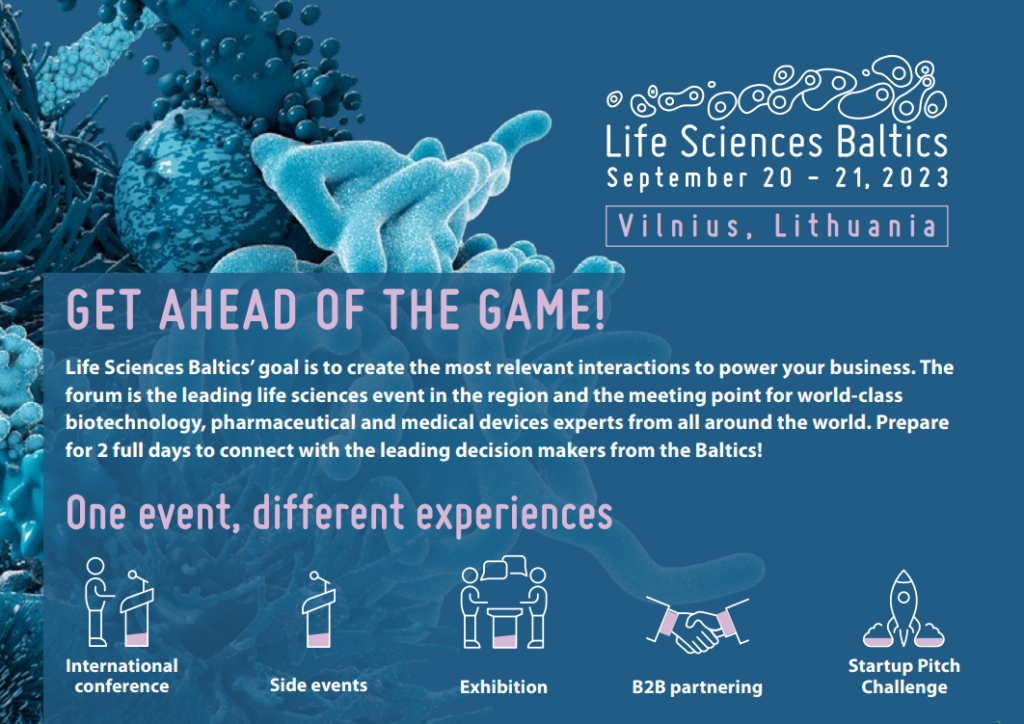 Life Sciences Baltics is the leading event in the Baltic countries serving as a meeting point for life sciences professionals from all around the world. Whether you need to kick off the project, generate leads, or engage in invaluable partnerships, the event offers you a variety of ways to participate, including exhibition, international conference, partnering, networking and a startup pitch competition.
The Baltic countries nurture the next generation of founders and talents bringing future solutions in biotechnology, pharma and medtech fields. This event creates a unique opportunity to meet and connect with them, all in one place. At the ongoing pivotal industry transition tipping point, the Baltic countries stand out as a destination where you get ahead of the game and power up your business with relevant interactions.

Since its initiation in 2012, Life Sciences Baltics has continued to pave the way for deeper collaboration across traditional boundaries. We don't limit ourselves to a forum venue, we spread activities throughout unexpected places including site visits to encourage more creative and open networking in different spaces. Fuelled by the high-quality topics and inspiring speakers, up to 800 founders and CEOs of companies and fast-growing startups, tech scouts and researchers are invited to take up their learning journey.

Whether you seek new knowledge and connections or aim to put things into motion, you will find it all on September 20-21, 2023 in Vilnius, Lithuania. Life Sciences Baltics is hosted by Innovation Agency Lithuania, a public agency responsible for the development of Lithuania's innovation ecosystem.
"Life Science Baltic is the biggest life sciences event in Nordic-Baltic region. Conference brings together top decision makers and the next generation of founders and talents from not only the Baltics and European Union, but also United States, North Korea, Japan, Israel and other countries all in one place. They will be joined by CEOs of companies and startups, tech scouts and researchers from all around the world, to create a potential for deep cooperation across traditional boundaries and take up a lasting learning journey. Finish companies and representatives from universities where actively attending all past events. Conference is growing and I would like to invite more representatives from Finland to follow the news about the event, register and plan a trip to Vilnius in September 20-21, 2023 to meet interesting people, exchange ideas and think about new projects" said Lithuanian Ambassador to Finland Giedrius Kazakevičius.
You can find more information about the event in this broschure and on the event website.
More information:
Audrius Masiulionis
Audrius.Masiulionis(a)urm.lt
Takaisin tapahtumat-sivulle