Nordic Approach to the European Green Deal and introducing Green transition in Latvia
The registration is now open for the stage-setting Nordic Baltic business forum focusing on the Nordic Approach to the European Green Deal and introducing Green transition in Latvia, which is scheduled for Wednesday, March 24, at 13:00 (EET)
Join us online to hear what the European Commission and the Latvian Government has planned to aid Economic Recovery and regional cooperation, introducing green transition, and reaching the goals set forth in the European Green Deal.
Also don't miss the opportunity to hear stories of Nordic investors in Latvia – pioneers and frontrunners when it comes to sustainable investments, green transition, and circular economy. Two of them – Neste and Orkla – are at the very top of global sustainability rankings. Other three – TietoEVRY, Dinex and IKEA have taken major steps not only towards introducing solutions that reduce environmental impact, but also towards transforming their own business model in alignment with sustainable development goals.
Additionally, two financial institutions Nordic Investment Bank and Swedbank will share the financial sector's perspective on sustainability and their role in the ongoing paradigm shift and its implications for business. Learn about new trends that will define working with and for the Nordic investors and the Nordic market. As the tide is shifting, don't miss the opportunity to engage in this important conversation!
Full program available here.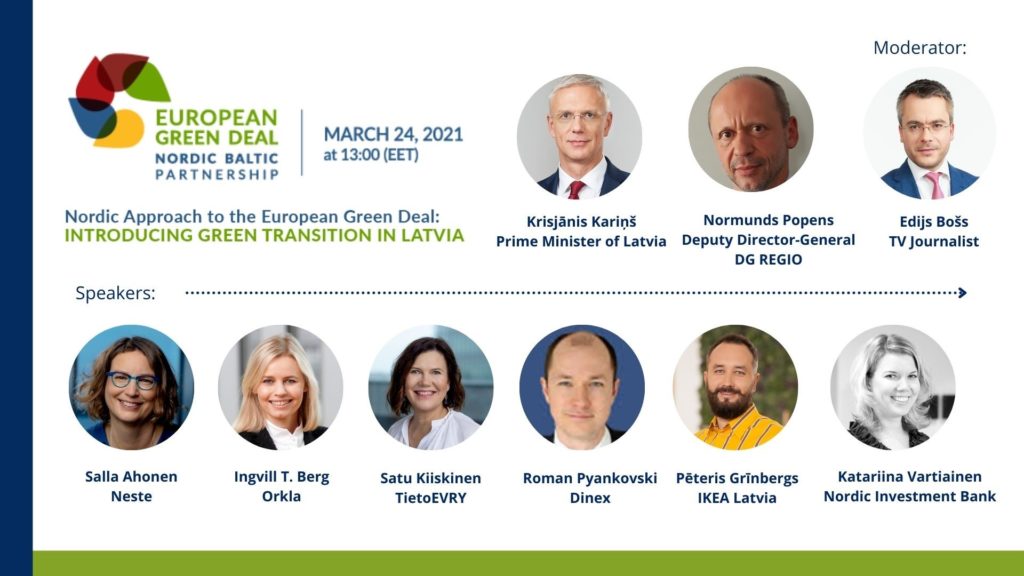 The event is organized by four Nordic Chambers of Commerce with the support of Nordic Embassies and the Nordic Council of Ministers' Office in Latvia. The event is sponsored by Swedbank, Visma and Vastint.
Takaisin tapahtumat-sivulle