PERU - Virtual Roadshow on River Defences
When? January 12, at 10:00 a.m (PET)
Where? Live broadcast on Facebook (in Spanish) and on Youtube (in English)

On Thursday, January 12, at 10:00 a.m. (Peru time), a virtual roadshow will be held with The Authority for Reconstruction with Changes (ARCC), in coordination with the Ministry of Foreign Affairs of Peru. During the broadcast there will be a presentation of projects for the construction of river defences for the Rímac and Mala rivers in the Lima region and the Chancay river in the Lambayeque region.
These projects are part of the interventions through Integrated Solutions within the framework of the Government-to-Government Agreement (G2G) with the United Kingdom for the Reconstruction of the North.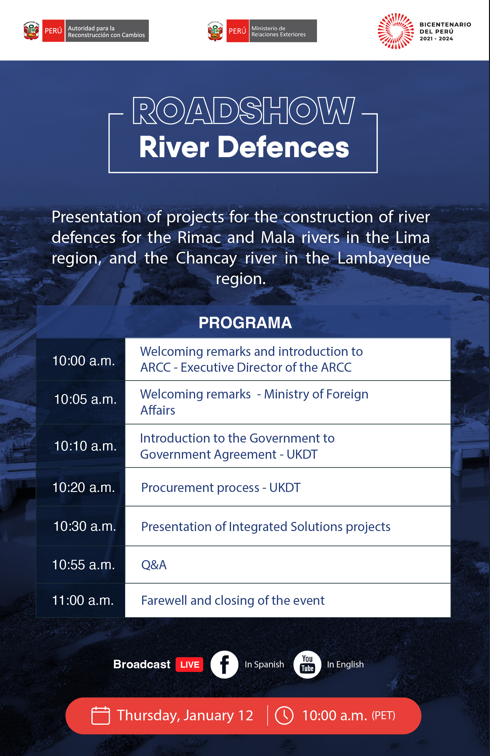 Interested parties must enter the aforementioned activity directly on the day through any of the following links:
Transmission in Spanish (Facebook) : https://es-la.facebook.com/ReconstruccionConCambios/
Broadcast in English (Youtube): https://www.youtube.com/c/autoridadreconstruccionconcambios
You can find more information about the event and the projects here.
Takaisin tapahtumat-sivulle