Webinar invitation: Finland Chamber of Commerce in India's Virtual Book Release Event on Jan 22, 2021
On behalf of Finland Chamber of Commerce in India (FINCHAM India), we have the great pleasure of inviting you to
join us on January 22, 2021, at 04:00 PM (IST) 12.30 Helsinki time
when FINCHAM India is organizing a virtual book release event for its publication 'Undaunting India: A Guide to Doing Business in India'.
In the recent years, India has made significant advancements in the 'ease of doing business' rankings and has been one of the top 10 performers in World Bank's 'Doing Business' list for three consecutive years. The last decade has witnessed an increase in the number of Finnish companies investing in India across sectors and Finland has become a favourable destination for several Indian IT companies. In keeping with its objective ⎯ to boost trade of the Finnish companies in India and to support investment and other business operation of its members in various terms in India- FINCHAM India has collaborated with KPMG in India and Dua Associates to co-author this guide.
The objective of this publication is to assist Finnish and Global companies explore India as an investment destination, by providing country overview and information relating to ease of doing business parameters, wherein India has made significant progress in the recent years, prevalent laws and policies, such as FDI, corporate laws and structures, IPR, tax regime, reforms in labour laws, public procurement, including incentives offered by the Indian Government to foreign investors for setting up India operations across industry sectors.
We are hopeful that this endeavour will enable a good understanding of India's much improved business environment. Our other esteemed guests for the occasion would include the Minister of Commerce & Industry, Government of India, the Ambassador of Finland in India, the Ambassador of India to Finland, Under Secretary of State, Government of Finland, key officials of Finland Chamber of Commerce, Helsinki (FINNCHAM), Confederation of Finnish Industries, Confederation of Indian Industries, CEO, Invest India, CEOs of our member companies and other distinguished guests.
It would be an absolute honor for us to have you join us on this occasion, and we are also confident that you will much enjoy from the interactions with the participants.
We thank you in advance for your favorable consideration to this invitation.
Sincerely yours,
Amit Gossain
Chairperson, FINCHAM India
Managing Director, KONE Elevator India
More information about the event jenni.isola@chamber.fi

THE LINK TO JOIN THE WEBINAR WILL BE SENT CLOSER TO THE DATE TO THOSE REGISTERED.
Finland Chamber of Commerce in India
www.finchamindia.com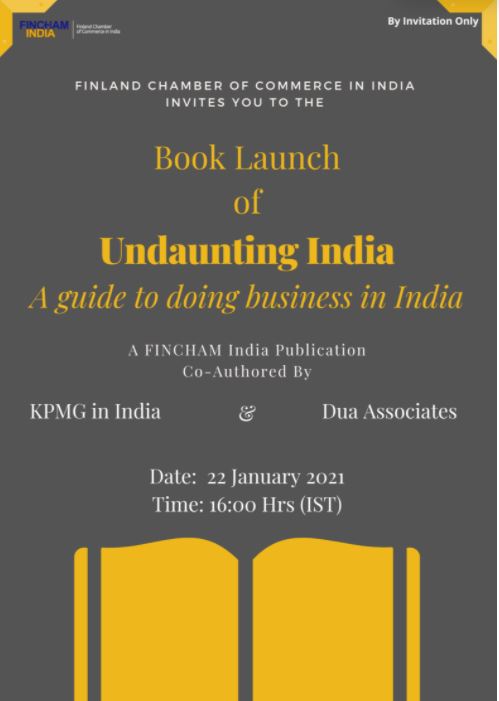 Takaisin tapahtumat-sivulle